I cannot believe it is already November!!! This means cold weather, GBL's (Gingerbread Lattes from Starbucks, only the best drink ever!), tofu turkey time, thankfulness and winter weddings!
Unfortunately the chilly weather during this time of year does not listen to Brides, even though I think it should! Which means that brides and bridesmaids are in need of some chic options to top their beautiful wedding gowns and bridesmaid's dresses, that will not take away from your stylish attire.
Here are a few of my favorite gown topper choices ranging from fur (fake of course!), sequins, color, embroidered, etc...
I love this delicate looking cardigan from Poetrie and the bonus is it can count for your something blue!

Poetrie: Sunday's Best Cardigan $40.99

Looking for something to keep you a little warmer and still be the center of attention, try this bright red and ruffle coat, perfect for a Christmas wedding!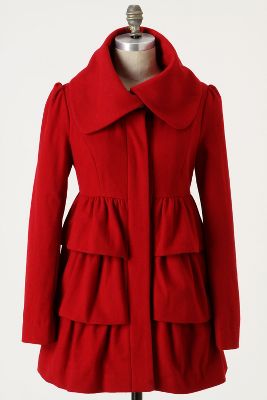 Anthropologie: Cym & Ripple Coat $188.00

Want to add a little sparkle to your dress, try this sequin cardigan from J.Crew, which comes in multiple colors.
J.Crew: Merino sequined crochet cardigan $148.00
Searching for a little retro glam, look no further than some faux fur from Juicy Couture

Juicy Couture: Tipped Faux Fur Jacket $358.00
Lastly for the rocker chicks out there why not try a leather jacket with a little girly flair.
ModCloth: Worn to be Wild Jacket $94.99

And even a little something for the littlest member of your wedding party, the flower girl!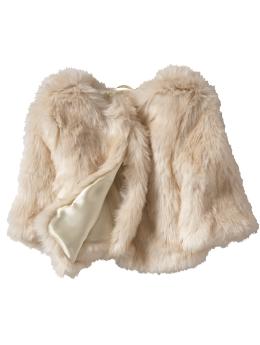 Gap Kids: Furry Shrug $39.50
My coat of choice was a brownish faux fur coat from a thrift store in Arizona, called My Sisters Closet. If you have not visited the store, you definitely should! What type of coat would you wear over your wedding dress? Color, Fur, Pattern? Let me know...
XOXO
Christine